, 'opacity': false, 'speedIn': , 'speedOut': , 'changeSpeed': , 'overlayShow': false, 'overlayOpacity': "", 'overlayColor': "", 'titleShow': false, 'titlePosition': '', 'enableEscapeButton': false, 'showCloseButton': false, 'showNavArrows': false, 'hideOnOverlayClick': false, 'hideOnContentClick': false, 'width': , 'height': , 'transitionIn': "", 'transitionOut': "", 'centerOnScroll': false }); })
Mar18
2012 World's Most Ethial Companies| Ethisphere™ Institute
---
Via Scoop.it – Life in the Sharing Economy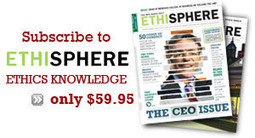 The World's Most Ethical (WME) Companies designation recognizes companies that truly go beyond making statements about doing business "ethically" and translate those words into action.
WME honorees not only promote ethical business standards and practices internally, they exceed legal compliance minimums and shape future industry standards by introducing best practices today.
---
---
© Bare Brilliance (A division of The Learning Factor). All rights reserved.